Where is the festival?
Victorious Festival is held on The Common and Castle Field in the beautiful seaside location of Southsea, Portsmouth.
When is the festival?
August Bank Holiday Weekend!
Friday 25th August 2017 (New for this year! Friday Night Opening Party)
Saturday 26th August 2017
Sunday 27th August 2017
How much do tickets cost?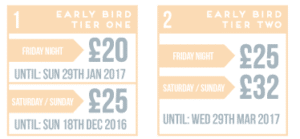 Please note all prices are per day. Booking & transaction fees apply.
All Victorious Festival event tickets are day tickets. You will require a separate ticket for each day that you wish to attend. Tickets do not include any form of accommodation or camping. 
---
You can buy tickets online easily by clicking here.
Tickets are also on sale without booking fee from the following Portsmouth outlets,
• Meat and Barrel, 112 Palmerston Road, Southsea, PO5 3PT
• Little Johnny Russells, 12 Albert Road, Southsea, PO5 2SH
Please note that tickets purchased from the above venues are cash only.
Opening times
Friday Night Opening Party
The Friday Night Opening Party opens at 6pm and closes at 11pm.
Please note there is no re-admission on the Friday.
Saturday & Sunday
On Saturday and Sunday the event opens and 10am and closes at 11pm both days.
We operate a re-admission policy until 8pm. After 8pm there is no re-admission.
Is the event family friendly?
Yes! There is plenty for everyone to enjoy, young and old. Please explore what the festival has to offer by clicking here.
Victorious Festival was a finalist for 'best family festival' in the UK Festival awards 2015 and 2014.
Please note: All members of the family require tickets
What can I expect to experience at this event?
Brilliant Live music from outstanding acts.
Free entry to the Seafront Attractions (including D- Day museum, Southsea Castle & Southsea Skate Park).
A huge free kids area to keep the youngsters entertained.
Bustling markets.
A real ale tent.
Plenty of bars, caterers, seating, unique areas to explore and toilets!
Are Premium / VIP tickets available?
Premium Upgrade bolt on tickets are available priced at £50 a day (+ Booking and transaction fees). This ticket includes dedicated site entrance, under cover common stage viewing platform & premium enclosure inc. exclusive bar, toilets, food traders, free face painting, balloon animals & children's games. Please note food and drink is not included.
This is a Premium Upgrade for those who also have a Standard Entry ticket. Please Note: this ticket will not grant entry, it will only provide existing ticket holders with an upgrade. You will require both your Upgrade Ticket and your Standard Ticket to qualify for an upgrade on arrival at the event. The Premium Upgrade entrance is at GATE P.
Premium upgrade tickets can be purchased here
Please note Premium Upgrade tickets are not available for the Friday.
Anti-tout information
Beware of unauthorised ticket agencies and touts (including EBay, Gumtree & Craigslist, Viagogo, Seatwave and Stubhub). They have not been supplied with tickets by the promoter and therefore there is a possibility you may end up paying over the odds for a ticket that may not exist or might never materialise. Even the reputable auction sites have been known to let down customers at the last minute.
All of our tickets have unique barcodes, and once used – cannot be used again.