Kids Stage
Our Kids Stage is back once again bringing the very best in children's entertainment! From family TV favourites to princesses and dance troops, you and your little ones will be mesmerised throughout the day! Compèred by the legendary Ross Presto!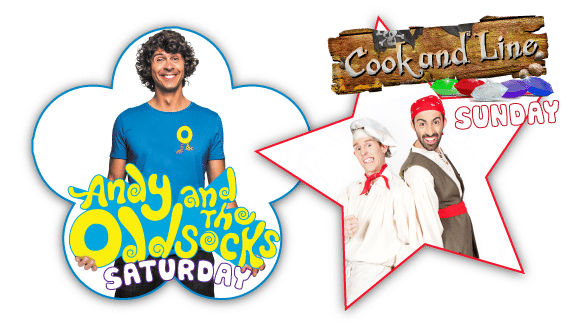 Andy and the Oddsocks
(SATURDAY ONLY)
Welcome to the crazy and wonderful world of 'Andy and the Odd Socks'. Meet the odd sock friends…. Rio on guitar, Blu on Bass, Moxy on the Drums and Random Keith on Keys. They are all bonkers! They love telling stories and sing about all sorts of things from Aliens and Dinosaurs to Rapping Robots and even a Groovy Hoover!!
Cook and Line
(SUNDAY ONLY)
Cook and Line from CBeebies' Swashbuckle will be performing a rip-roaring pirate adventure! Full of lively songs, crowd-pleasing games and laugh-out loud comedy, their energetic and interactive performance is sure to be a big hit on this year's kid's stage
MEET AND GREETS
Our Meet and Greet Zone is back allowing your little ones to spot their favourite characters at various intervals throughout the day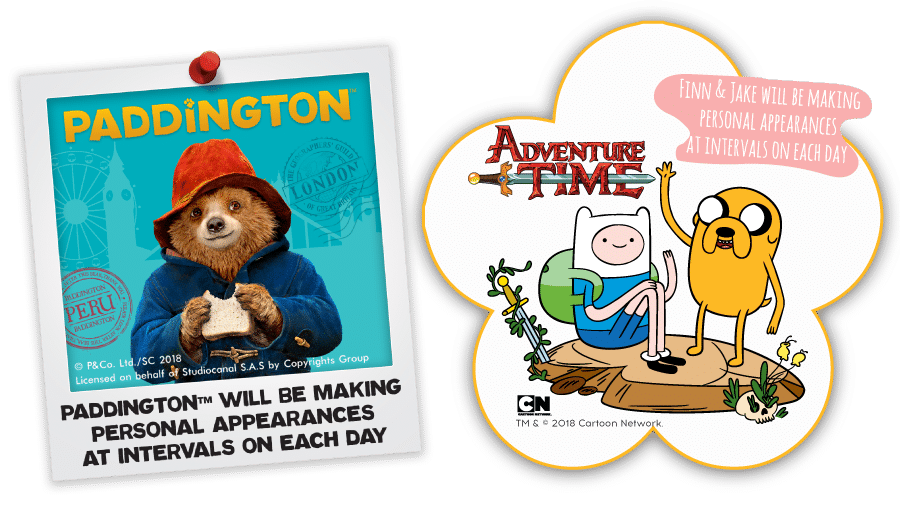 PADDINGTON™

Pop by the Meet and Greet zone to catch everyone's favourite Marmalade loving Bear, Paddington™ make appearances at intervals throughout the day!! Don't forget your cameras as Paddington will be happy to pose for pictures!!
ADVENTURE TIME – FINN AND JAKE
TV favourites Finn and Jake are taking time out from battling the Ice King in the land of Ooo to visit us at Victorious Festival! Cameras at the ready as Finn and Jake will be making appearances at intervals throughout the day!!
SOUTHSEA SKATEPARK
Southsea Skatepark present Mini Wheelers! The much loved Southsea Skatepark will be holding a roller disco for kids aged 3-10 years old each morning between 10am and 12noon. Skate hires free so just show up and get skating!
JUNGLE BUDDIES
Enter the crocodile assault course, through the crocodile's mouth you will find a crawl tunnel, biff and bash's, hanging punch bags and then come down the slide! Discover the bouncy helter-skelter fun,!  A Castle under the sea, giant slides and a bouncy toddler activity playpen!!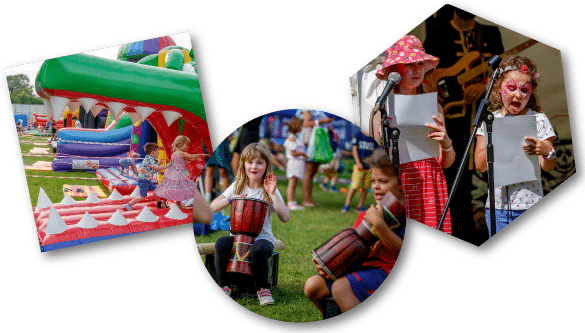 BUILD A ROCKET
The fantastic Southampton Scrap store gang will be teaching us how to turn all scrap and waste into fun with arts and crafts! This years out of this world craft project will be Building space rockets!!!!
ASPEX GALLERY
The creative bunch from Aspex Art Gallery will be on site with interactive installations.
BLACK HAT THEATRICAL
Black Hat Theatrical will be back again to entertain you and your little ones across the weekend. Roaming the festival in their fabulous costumes they'll be sure to put a smile on your face.
ART WALL
Time to get creative! Join up with local artist James Waterfield and create a spectacular mural for all the festival to see!
BELLACRAFTS
BellaCrafts is renowned for creating an enjoyable crafting environment for children of all ages, so come along and get creative! For more info about BellaCrafts visit their website.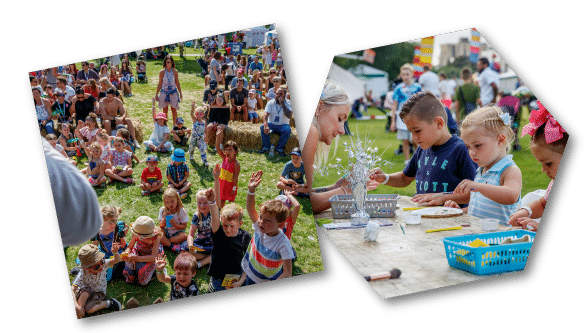 HOMESTART COLOURING TENT
Homestart are an amazing family charity who offer support and friendship for families in the area. They are opening their doors this year at the festival for community colouring!
Will & JARED
Our fabulously funny roaming entertainers Will and Jared are back with balloon modelling, juggling, bubbles and more!
FACEPAINTING
Free for everyone at our colourful face painting stations! Run by the wonderful team at Imagine.
BEACH AREA
The Victorious Beach Area is back! See who can make the biggest sandcastle or sit back and relax in our huge sandy beach area!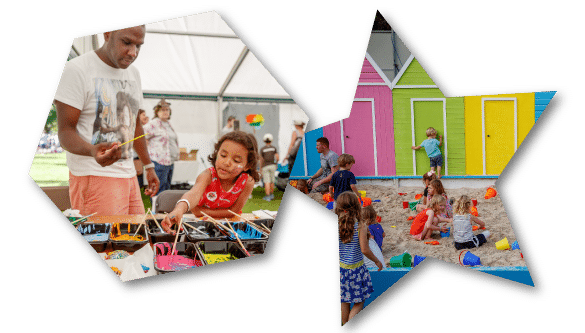 KIDDI-OKE
Karaoke for kids! Let your little one have a moment in the spot light and sing along to loads of kids.
KIDDIE DISCO
Children's parties Portsmouth will be supplying the party in this year's kid's arena!!! Get your dance moves ready with disco fun, dance competitions and fun games!!!
TOP BANANA CIRCUS SKILLS
Roll up! Roll up! Join us and learn exciting circus skills at Victorious! The fantastic team behind Top Banana Circus skills are on hand to teach your little ones everything from tightrope walking to juggling!
FOOTBALL SKILLS
Victorious is scouting for the next Rooney or Ronaldo! The award-winning Pre -school football academy 'Little Kickers' will be giving children a positive introduction to sports and playing as a team, with fun games and football fun.
PORTSMOUTH IN THE COMMUNITY PFC BUS
Hop on board and explore the Pompey Football club bus with Portsmouth in the Community.
CRAFT WORKSHOPS
The gang behind the much-loved community garden project 'Southsea Greenhouse' will be showcasing their other skills by hosting craft workshops. These guys aren't just good with plants! They'll be doing pom-pom making, finger knitting, looming, jewellery making and face painting throughout the weekend!
SEATING, BABY CHANGE & BREASTFEEDING
There is plenty of designated family-friendly seating in the Kids Arena as well as a dedicated baby change/breastfeeding facility. Stocked to the rafters with nappies and changing wipes the baby change tent makes festivals with really little ones a doddle.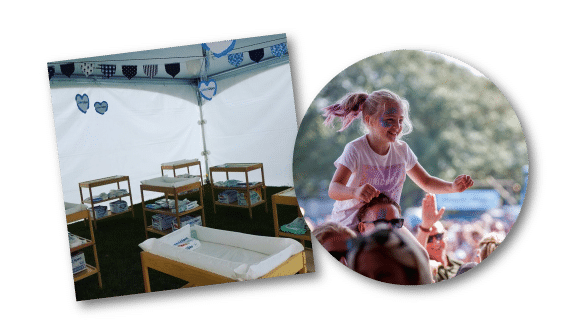 HAMPSHIRE & IOW AIR AMBULANCE
The Hampshire Isle of Wight Air Ambulance team will be there to educate you and your little ones on staying safe alongside fun activities.
MONKEY MUSIC
Created by musicians and child development experts, Monkey Music classes have grown hugely popular over the UK! Bringing a taste of what they offer to the festival you can dive into Monkey Music's magical world by taking part in their festival sessions. Get ready to make some music!
NEW THEATRE ROYAL
Dive into a much-loved childrens classic with an interactive Peter Pan Experience bought to you by The New Theatre Royal.
PYJAMA DRAMA
Pyjama drama offer unique, fun drama and creative play classes for babies, toddlers and children all over the UK. We're thrilled to welcome them to Victorious!
REBEL YARN BOMBING
The rebellious yarn bombers are back – this year in the kids arena! Raising money for the Roald Dahl charity
RNLI
The Royal Nation Lifeboat Institute will be there teaching kids about sea safety in a fun yet educational way!
SAILOR SOCIETY
Raising awareness about seafarers with fun and games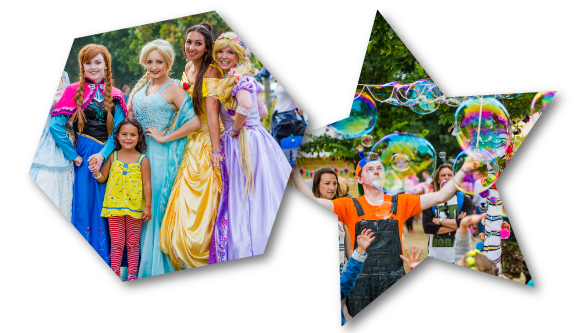 PORTSMOUTH COLLEGE ACTION AREA
PORTSMOUTH HISTORIC DOCKYARD ZONE
Family fun activities for all ages with Portsmouth Historic Dockyard. Come and build your favourite ship from Lego, enjoy our Tudor games, challenge a real Royal Marine and explore a 90ft interactive caving tunnel!
MARY ROSE ZONE
The Mary Rose Crew is back at Victorious this year! Come along and try your hand at archery, jousting and Tudor inspired games. Hold a Mary Rose cannon ball – that's over 500 years old before taking a selfie with Henry VIII himself!
ACTION BLAST NERF AREA
Grab a nerf blaster and run for cover behind giant inflatable shapes in an action packed adrenaline pumping game in our Action Blast Nerf Arena or hone your skills by practising on our target range!
CANOE LAKE LEISURE TENNIS
Could you be the next Andy Murray or Serena Williams!? Have a go at tennis and find out with the Canoe Lake Leisure tennis team!
GAME OVER
Game Over, Portsmouth's only gaming console café will be bringing there retro gaming to Victorious kids arena!! Expect something for all your retro gaming needs from Playstation 1 to Pong on the Binatone TV Master IV.
READY TO ROCK SCHOOL
Feeling inspired by the amazing acts performing at this year's festival? Get into the festival spirit and learn to play an instrument at the Ready to Rock School!
CIRCUS
The amazing Happy's Circus is back for 2018!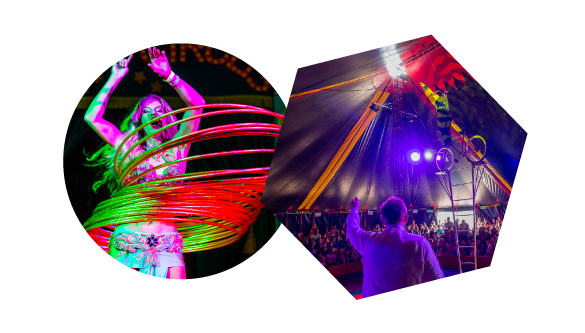 ALL ENTERTAINMENT IN THE KIDS ARENA IS ABSOLUTELY FREE!