Site Map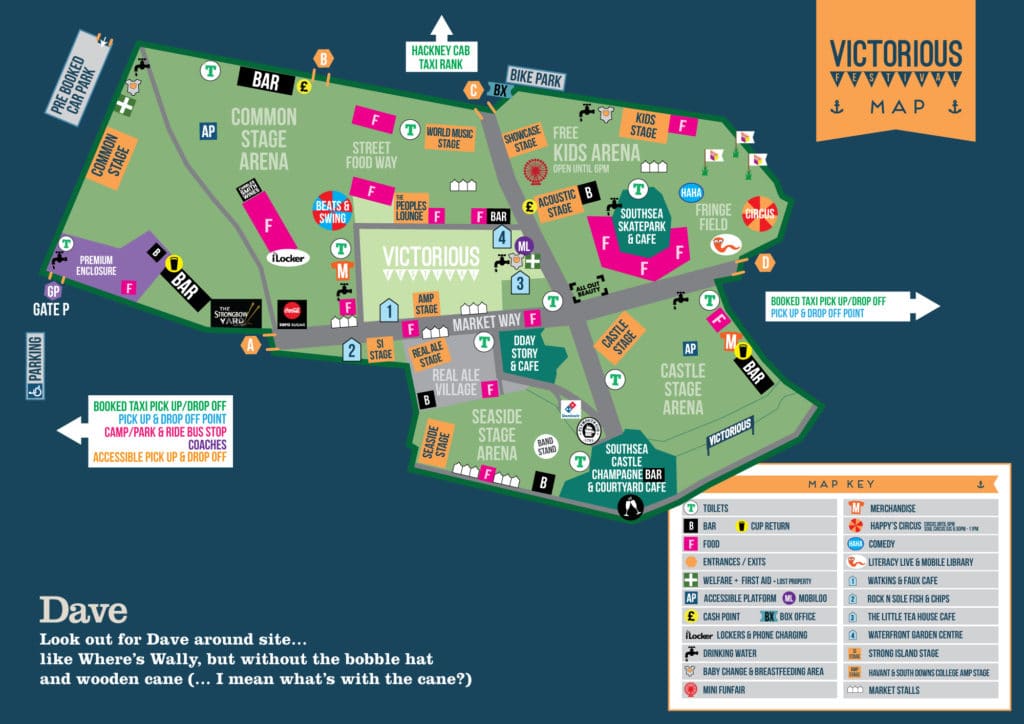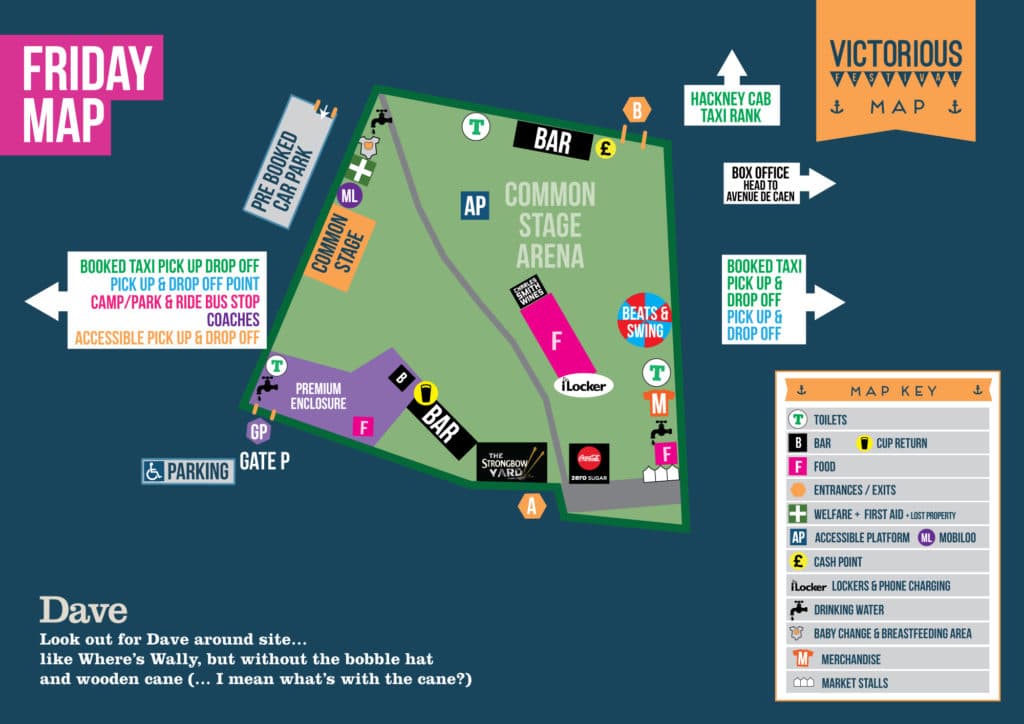 Common Stage
The Common Stage is one of the main focal points of the festival, located on Southsea common. The stage is notorious for playing host to incredible high profile acts with stellar production. Previous years have seen Stereophonics, Elbow, Noel Gallagher's High Flying Birds, Manic Street Preachers, & The Flaming Lips grace the stage.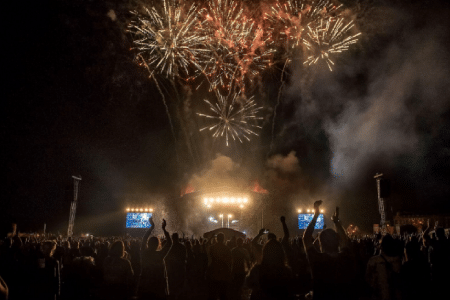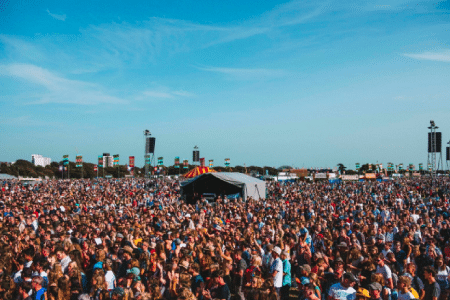 Castle Stage
The Castle Stage sits adjacent to Southsea Castle – a stunning historical landmark belonging to Henry VIII, built in 1544! An incredible arena, perfect for watching your favourite artists.
Along with the iconic 'Victorious letters' create a superb backdrop and a great opportunity for a festival selfie.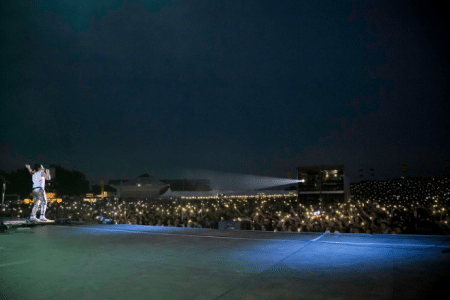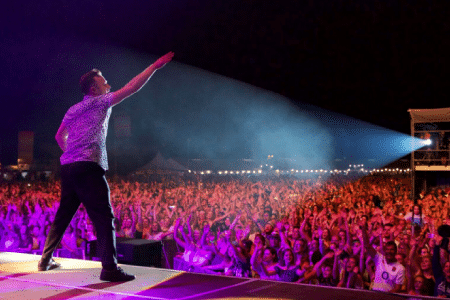 Acoustic Stage
Sponsored by Rhino AV
Pull up a hay bale, sit back and enjoy the chilled out atmosphere of this intimate stage. Previous years have featured special performances from Emmy The Great, Beans on Toast, Grant Nicholas of Feeder & Ben Ottewell of Gomez; a great opportunity to see some hugely popular artists up close and personal.
The acoustic stage is sponsored by Rhino AV, an events, conference and educational AV company based in the South who supply cutting edge technologies with professional and friendly service. Check their website out here!

Seaside Stage…Presented by Nick Courtney
Sponsored by Casemate's Rehearsal Studios
Set in an stunning seaside location & presented by Nick Courtney (local promoter) watch the best up and coming talent from Portsmouth & surrounding areas. See cruise liners soar past while watching the next big thing.
Boutique markets, street food and pop up bars add to the festival flavour is this laid back arena.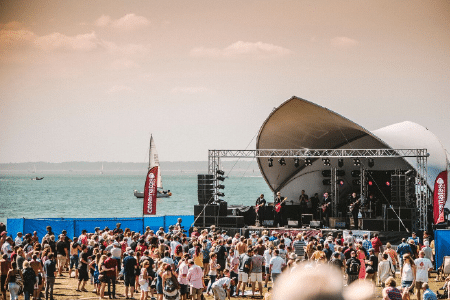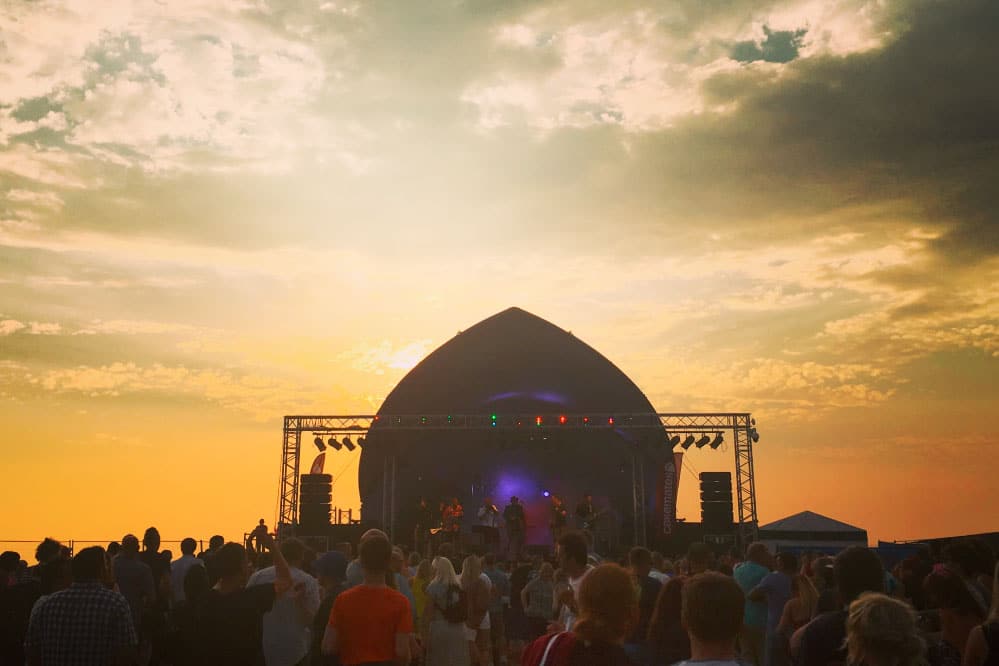 Market Way
Market way is the perfect pathway between the Common and Castle Stage. Lined with quirky market stalls there is plenty to look at as you wonder through. From thrift stores, handmade goods, arts, crafts, seriously good food & roaming entertainment it's full of hussle and bussle.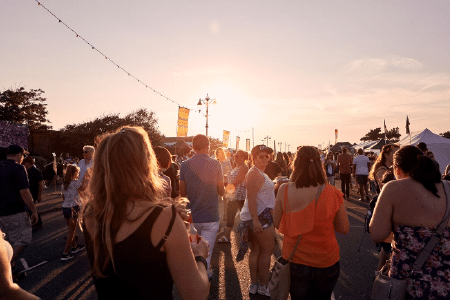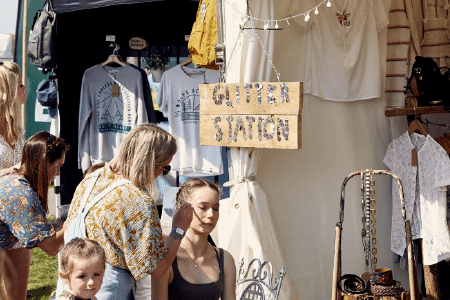 Kids Arena
All attractions and entertainment completely free to festival-goers! The Victorious Kids Arena is a must for all families visiting Victorious Festival.
Victorious Festival was a finalist in the UK Festival Awards for Best Family Festival in 2014, 2015 and 2016!
The fantastic Kids Arena also attracted the attention of BBC South Today!
Take a look at the amazing arena here.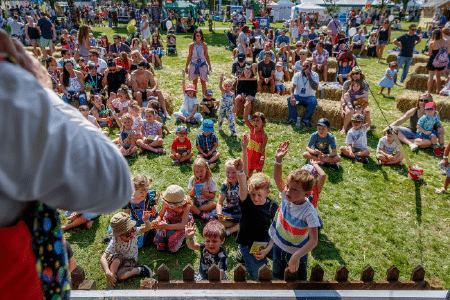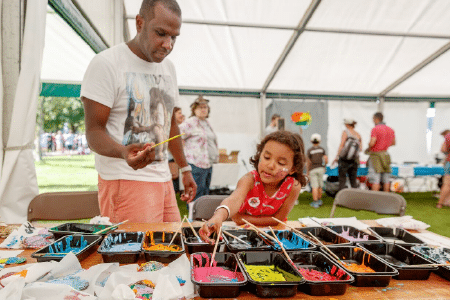 Real Ale Village
Stage sponsored by Mayfield Studios
At the heart of the Real Ale village you'll find the Mayfield Studios stage showcasing the best in indie, shanty, folk & covers music. Perfect to accompany any ale.
As well as the Mayfield Studio Stage we will have a beer tent brimming with brilliant brews from an array of breweries near and far meaning there will be something for all hop heads, craft beer connoisseurs and those who just enjoy a pint.  There will also be some tasty food vendors providing the perfect pairing for your pint.
Mayfield Studios is a state-of-the-art recording facility and newly formed record label based in Portsmouth, offering far reaching support for up and coming local singers and bands. For more information, please visit www.mayfieldrecords.com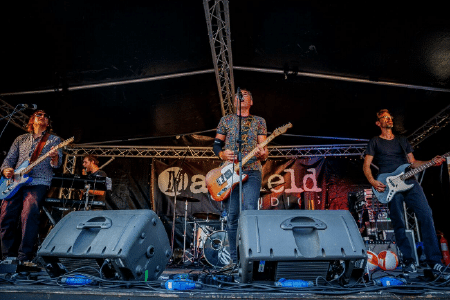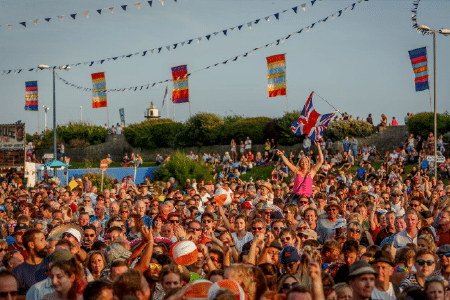 World Music Village
World Music Village presented by Arms Around the Child!
Prepare to be transported across the globe when you enter the World Music Village. With a variety of top performances from live world music bands, solo artists and DJs to spoken word and Tai-Chi Workshops.
The World Music Village will also host the People's Lounge again this year.
The People's Lounge is a Cultural Collective of Artists, Musicians, Poets, Designers, Cooks, Activists, DJ's, Groovers, Movers and Shakers. 

This alternative enclave will display and celebrate Portsmouth's diverse local talent. Live Music, Spoken Word Poetry, Visual Art, Tai Chi and Workshops will run throughout the weekend.

The People's Lounge aims to bring together the eclectic array of Portsmouth's movements, sounds and people to create a festive fusion of art, beauty and love.  This area really bring the festival feels so make sure you don't miss out!
Strongbow Yard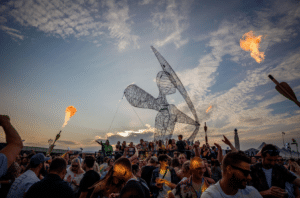 We're excited to announce that Johnny Vaughan and Gordon Smart will be back broadcasting their Radio X show LIVE from the Strongbow Yard across the festival weekend!
Get ready to own the day, night and everything in between at the Strongbow Yard.
Whether you're up for chilling by the bar or turning it on at the DJ booth, we've created a place that's head and shoulders above the rest. Literally.
Join us in the day for an ice-cold pint, accompanied by the chilled-out beats. Come along for exclusive live broadcasts from Radio X from 1-4pm. Then get ready to take things up a notch as the evening DJs take you through until 11pm.
So if you're looking for somewhere to hang out with friends, burn some quality time and truly own your festival experience, just look for the Strongbow Archer… you can't miss him.
Happy's Circus
Introducing Happy's Circus!
By day be mesmerised by the traditional circus shows featuring Acrobats, Aerialists, speciality acts Rolla-Rolla and Sword Balancing plus loads of Magic performed by Happy's Circus! Perfect fun for the whole family!
By night, dance to the sounds of the Soul Circus DJ's playing the very best of Motown, Funk & Soul.
Completely Free to festival-goers!
You can now find Happy's Circus near the Kids Arena!
Showcase Stage
Sponsored by Radweb
The Showcase Stage is back for another fun filled year of local acoustic performances. Situated at one of the main entrances and next to the Kids Arena it sets the scene as you arrive at the festival.
Sponsored by the wonderful team at Radweb – Creators of powerful Web Applications and eCommerce Solutions, based in Portsmouth.

Southsea Castle Champagne Bar
The stunning Southsea Castle, once belonging to Henry VIII plays host to Southsea's popular Summer Champagne Bar. Climb the ramparts and enjoy the views of the Solent with a glass of bubbly while listening to an amazing line up of DJs. A truly unique Victorious Festival experience.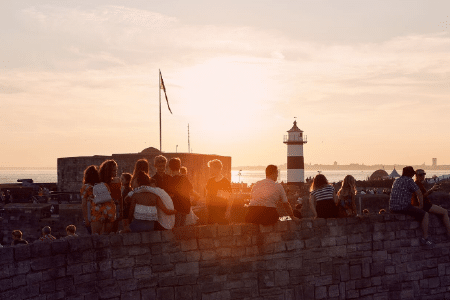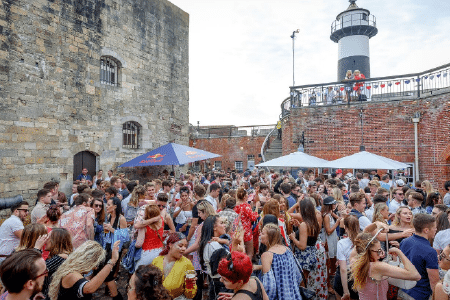 Beats and Swing Tent
Immerse yourself in an electrifying atmosphere at the Beats and Swing tent! Taking the best beats from modern music genres and fusing them with classic swing and big band there's sure to be a beat for everyone to dance too.
Featturing incredible acts & DJs, plus the usual Beats & Swing tent fun from Hoop Shaker and Happy Hula Monkeys & Swing for all!
The Beats and Swing Tent can now be found in the Common Stage Arena!
Premium Enclosure / VIP area
'Premium Upgrade (Bolt On)' tickets are available priced at £50 a day (+ fees).
This ticket includes dedicated site entrance (Gate P), access to an under cover viewing platform for The Common Stage (subject to capacity / shown in the photo below to the left of the image) plus access to the premium enclosure situated adjacent to the Common Stage. The area  includes exclusive bar, toilets, food traders, free face painting, balloon animals & children's games. Please note food and drink is not included in the ticket price.
This is a bolt-on ticket. You will still require a standard entry ticket to gain access to the festival. The 'Premium Upgrade (Bolt On)' ticket will not grant entry to the festival, it will only provide existing ticket holders with an upgrade. You will require both your Upgrade Ticket and your Standard Ticket to qualify for an upgrade on arrival at the event. The Premium Upgrade entrance is at GATE P.
Premium upgrade tickets can be purchased here.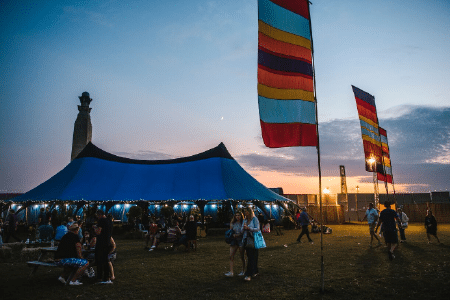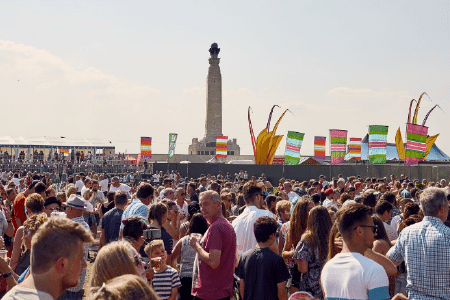 Street Food Way
Situated between the huge Common Stage Arena and the bustling World Music Village, Street Food Way is a brand new area hosting an array of food options to satisfy everyone's taste buds. Seating will also be available in this area – perfect for relaxing while having a bite to eat.
The Food Court
The Food Court is positioned around Southsea Skate Park and offers a large selection of food and snack traders. Situated conveniently near the main festival crossroads and surrounded by the Acoustic Stage, the Fringe Field and the Kids Arena, it's a fantastic central point to grab a bite to eat. With Southsea Castle just across the road, it's the perfect place to re-fuel before catching at set on the Castle Stage.