Getting Here Map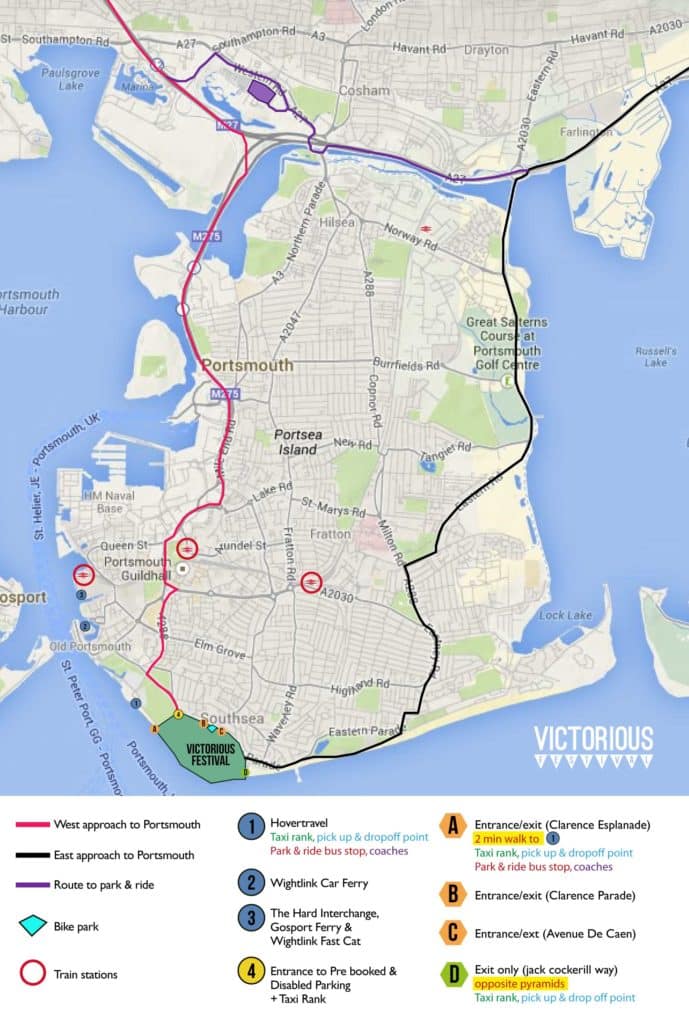 On foot
Portsmouth is a beautiful seafront city and is very flat! If you are able to walk to the festival we fully recommend strolling to the event on Southsea Seafront.
There are 3 entrances to the festival site.
A.) Clarence Esplanade, Southsea, PO5 3PB (near Clarence Pier)
B.) Clarence Parade, Southsea, PO5 3RJ
C.) Palmerston Road, Southsea, PO5 3PT (opposite Meat and Barrel – Restaurant/Bar)
Cycle
Cycling has never been so popular! Why not cycle to the festival? The site will have bicycle parks for those of you wishing to ride that will be guarded during festival opening hours… But please remember – don't drink and cycle!
**please note while guards will be patrolling the area – bikes are still left at the owners risk**
A bike park is located near to the following entrance:
Entrance C, Palmerston Road, Southsea, PO5 3PT (opposite Meat and Barrel – Restaurant/Bar)
Coaches
Official and Exclusive Coach Travel to Victorious Festival:
Don't worry about being the designated driver, missing the last train or taking it easy on the last night! We've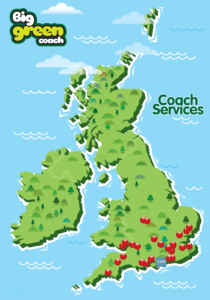 teamed up with Big Green Coach to make getting to the festival easy.
You can hop on a low cost executive coach with a load of other revellers from 25 pick-up locations across the UK. Better yet – secure your travel straight to the festival with only £10 deposit – pay the rest later!
Choose either day return coach to the festival site or our weekend service which drops you off at the campsite! Find Out More Here.
You can party hard, and revel in the fact you can sleep all the way home when you're done.
Pick-up locations:
Bath, Birmingham, Bournemouth, Brighton, Bristol, Canterbury, Cardiff, Chelmsford, Colchester, Coventry, Crawley, Exeter, Guildford, Ipswich, London Croydon, London Victoria, Maidstone, Newport, Oxford, Plymouth, Poole, Reading, Southampton, Taunton and Worthing. The earlier you book the cheaper the coach seats will be so please don't delay. Book Your Travel Here.
Trains
There are regular trains from London Waterloo and Victoria which bring you straight into the center of Portsmouth stopping at the following stations: Fratton, Portsmouth & Southsea and Portsmouth Harbour.
From these stations Southsea Seafront is a 25 minute walk (approx.) Alternatively there are regular buses and many taxis in the area that can take you direct to the seafront.
Please make sure you check train times before you travel!
Boats & Ferries
The festival is on the Seafront after all! Ferry services operate from France, Spain, the Isle of Wight and Gosport on a regular basis.
From the Isle of Wight
The closest crossing to the festival site. Hovertravel are running a special later service for the festival with crossings from Southsea back to Ryde at 9:30pm, 10:30pm, 11pm and 11:30pm. We expect these to be very busy so we recommend pre-booking!
Hovertravel are also letting everyone with a Victorious Ticket jump on their 'Hoverbus' for just £1! With pick ups at the Portsmouth Harbour and Portsmouth and Southsea Train Station this is a great way to get to the festival site!
30 minute walk away but very good bus routes and taxis
The great team at Wightlink Ferries will be running extra services and fantastic value deals for festival goers.
You'll be able to head back each night at 9pm, 11pm, 11:30pm, 12:30, 1am and 3am!  Visit their website to book your tickets now.
PLEASE NOTE: We recommend you book your return ferry journey in advance to be sure of getting home and securing the best prices!
30 minute walk away but near very good bus routes and taxi services. The Ferry runs until midnight with a smaller late night boat operating until 4am.
By Car
We are trying to be as green a festival as possible so if you can use public transport, walk or cycle then please do. If you simply must drive then please see below for East and West approaches into the city as illustrated in the 'getting here map' at the top of the page. There will also be yellow highway signs along the way to assist you.
Over the weekend we will have live updates on the best sites for parking on our Facebook and Twitter pages so please do subscribe/like to these to keep up to date.
Please explore the Getting Here page tabs for information on:
• Pre-booked parking
• Park & Ride
• Other local car parks
• Getting dropped off
• Car Sharing
• Taxis
Pre-book Car Parking
The Victorious Festival Pre-booked car park is located conveniently right next to the festival site.
All tickets MUST be booked by the lead driver & they will be required to show their drivers licence at the gate on arrival along with the PRINTED ticket.
Car Park Opening Hours:
Friday 25th August 2017 5pm – 1am
Saturday 27th August 2017 8am – 1am.
Sunday 28th August 2017 8am – 1am.
Monday 29th August 2017 8am – 12noon.
All cars must be removed by 10am the following day. If you have pre-booked parking for both the Saturday and Sunday your vehicle may remain for the duration and must be removed by 12 noon on Monday 29th August)
If you book pre-booked parking and wish to leave and return again on the same day, please let the exit point know so they can stamp your printed ticket.
Car Park Sat Nav Postcode:
Clarence Parade, Portsmouth, Hampshire PO5 3LJ (Opposite The Queens Hotel)
Pre-booked parking tickets are on sale now and available here.
Park & Ride
Information on Park and Ride coming soon!
Other parking
For a list of all the public car parks in Portsmouth please click here. 
If you are driving to Victorious Festival why don't you add any potential spare seats you have on GoCarShare? They connect you with people looking for a ride who contribute to your journey costs. See the section 'Getting there by road' above for more details.
Getting Dropped Off
There will be designated areas for drop off and pick up. These areas will be confirmed closer to the event date.
Go Car Share
GoCarShare
At this year's Victorious Festival we are committed to making the festival as green as possible and ask you all to consider your environment and the effect your travel has on it.
Therefore we have teamed up with the friendly peeps at GoCarShare to help encourage as many of you as possible to share car journeys by offering lifts. Just click on our page and add your journey, whether you are driving or looking for a lift, and they will match you with someone going the same way.
Go on, not only will you be saving the planet a little at a time, but you'll be saving pennies too!
Taxis
Below is a list of taxi numbers for the local area. Sharing taxi costs with friends can work out to cost a lot less than you think!
• Aqua Cars – 023 92 666666
• City Wide – 023 92 833333
• Andi Cars – 023 92 696969
• Uber – App available to download to your smart phone
There will be two drop off location for taxis – These will be confirmed closer to the event date.
Hackney Cabs
There will be two hackney cab rank's located outside the festival site. These locations will be confirmed closer to the event.
Pre Book a Cab with minicabit
We've partnered up with Minicabit to help you pre-book a cab to the festival online! If you share with friends it can often work out cheaper than you think with up to 16 seater cabs available. You can even book returns and try and beat the end of festival crowds.
Minicabit compares cab fleets across the country so no matter where you are coming from – they will find you a great price!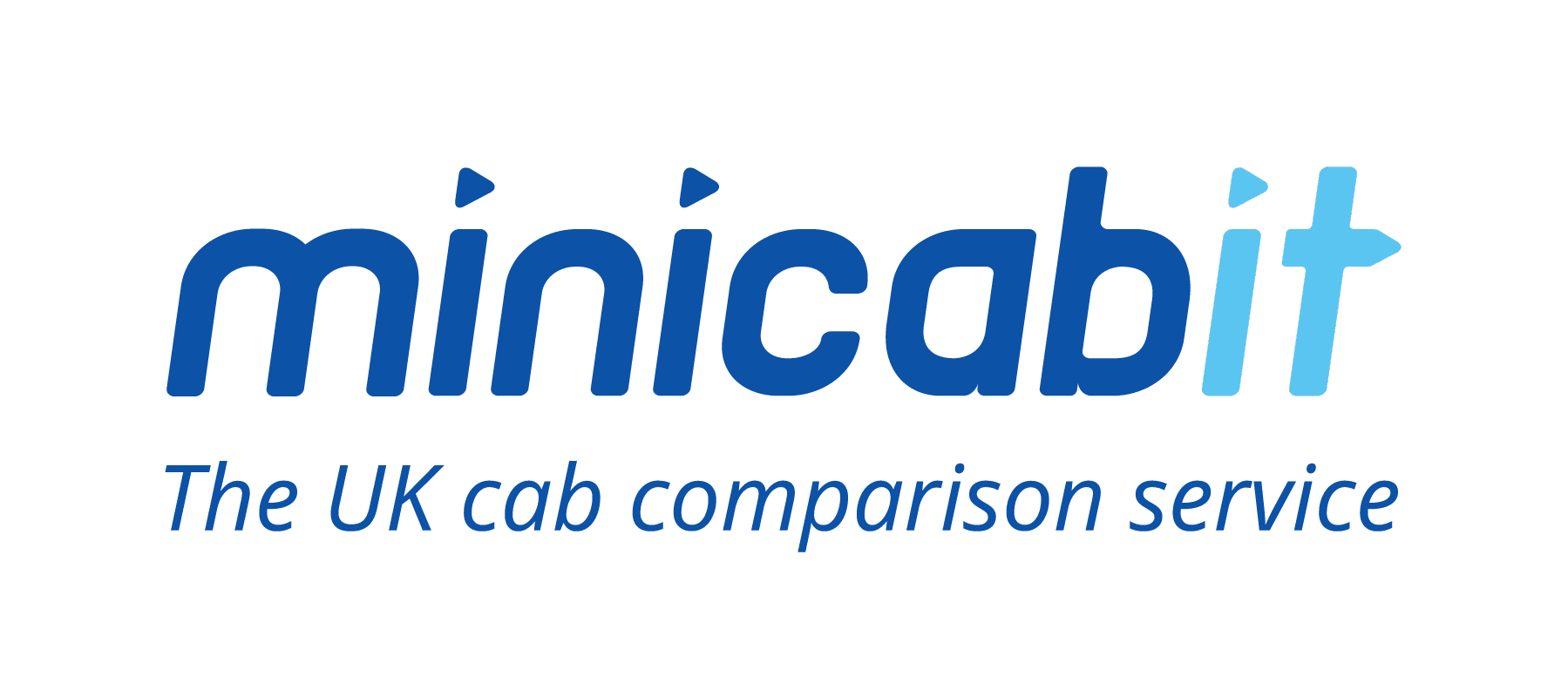 Head to minicabit.com to pre-book your cab now! As an early bird special minicabit are offering £5 off any pre paid trip over £20 with promo code: VICTORIOUS
The Solent Go Travel Card
The Solent Go Travel Card makes travelling around Portsmouth by bus and ferry even easier! For more information and to sign up for your card visit the Solent Go website.
You can also explore ways to travel around the city with this very handy Hampshire Journey Planner.