Buying Tickets
PURCHASING TICKETS ONLINE
You can buy tickets here
You can choose to pay for your ticket in full, or opt to use a payment plan.

PURCHASING TICKETS AT OUTLETS
Tickets will be available from
The Honest Politician (Elm Grove, Southsea)
Saturday and Sundays, 1pm-6pm only
Card payments only
STARTING FROM SATURDAY 31ST JULY 2021
Payment Plans
Payment plans allow our customers to spread the cost by paying for their tickets over several monthly installments, including an initial deposit to secure the booking.
The initial deposit is made up of your first monthly payment, the booking fee (15%), the processing fee (£3) and the transaction fee (£1)
Overall, tickets purchased via payment plans cost the customer 5% more than non-payment plan tickets plus an additional £3 processing fee.
Payment plans are only available online.
For any payment plan questions please get in contact with victorious@kaboodle.co.uk
Ticket Price Tiers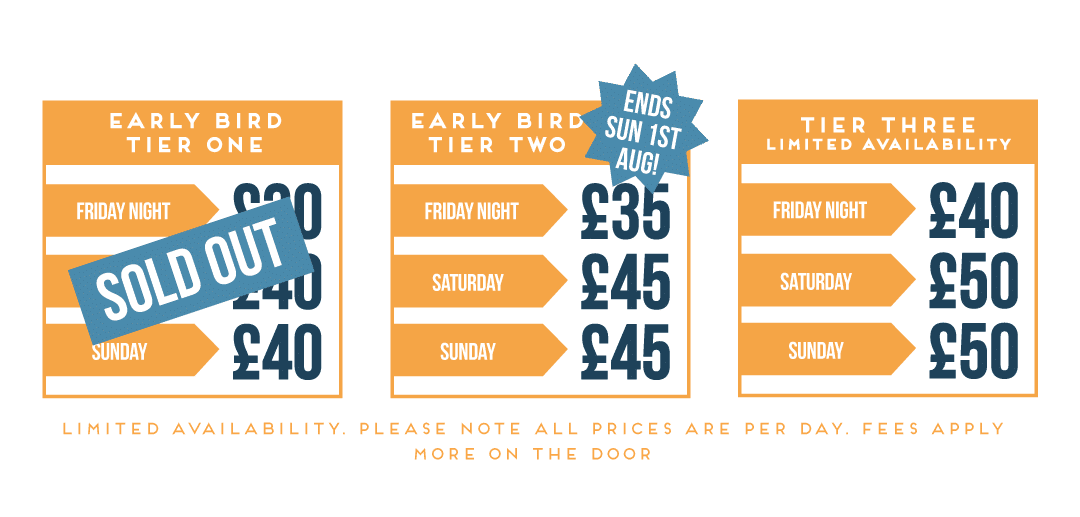 Ticket Tiers Structure Explained
Victorious Festival operates on a tiered ticket system. This simply means that our ticket prices start cheaper for the early birds and increase as time goes on. The tiers of pricing are set when the Festival goes on sale and will progress through the tiers as we get closer to the event.
The sooner you buy, the cheaper it is. Other than the price you pay, there is no difference to the ticket you receive.
Victorious Festival continues to grow and learn each year which means some important changes and improvements have to be made.
Children's tickets are for those aged 5-12yrs. Any person aged 13yrs and over must purchase a standard ticket. Under 5's tickets remain at just £1. These age bracket changes bring us more in line with most other festivals whilst remaining one of the most affordable festivals in the UK. All T&C's regarding age remain the same and can be found on our website – https://www.victoriousfestival.co.uk/info/terms-conditions/
Lost Tickets / Ticket Issues
All online tickets are e-tickets. E-tickets will be released in the last week of July
If you haven't received your e-tickets by then please check your junk folder. If you still haven't located your e-tickets or if you have any other e-ticket issues please contact Kaboodle using the following email address: victorious@kaboodle.co.uk
If you purchase your ticket in an outlet
Keep it safe and bring it with you on the day. We cannot replace lost tickets.
BUYING TICKETS ON THE DAY
If the event does not sell out in advance then the remaining tickets will be available at our on-site box office located at the festival by Entrance C (opposite Palmerston Road). Tickets will be cash only. Like us on Facebook to stay up to date. Tickets are available online here
BUYING TICKETS FOR OTHERS
All e-tickets will have the name of the purchaser on them. You may gift your ticket to a friend or family member. ALL tickets have a UNIQUE barcode that is scanned upon entry to the festival. Once it has been scanned that barcode number will become void meaning the ticket cannot be re-used. Please be aware of touts and only purchase tickets from trusted sources. Always purchase from the Victorious Festival official website.
I.D REQUIREMENTS
AT THE GATE:
Anyone aged 15 or under must be accompanied by an adult over the age of 18, therefore, you will only need to show I.D at the gate if you are accompanying a minor/s (someone who is aged 15 or under) and you yourself look Under 25.
AT THE BARS:
I.D. will be required at all bars when purchasing alcoholic drinks. We operate a very strict challenge 25 policy. Accepted forms of I.D. are valid photo driving licence or passport only.
Premium /VIP Ticket options
Yes Premium tickets are available. To find out more click here.
Anti-tout information
Beware of unauthorised ticket agencies and touts (including EBay, Facebook, Gumtree & Craigslist, Viagogo, Seatwave and Stubhub). They have not been supplied with tickets by the promoter and therefore there is a possibility you may end up paying over the odds for a ticket that may not exist or might never materialise. Even the reputable auction sites have been known to let down customers at the last minute.
All of our tickets have unique barcodes, and once used – cannot be used again.
Please buy tickets from the official Victorious Website only.
2020 Rollover Customer FAQs
For FAQs specifically regarding Victorious 2020 rollover tickets please click here.